It's time to figure out what we're making for dinner! One of my favorite things to do is look around on Pinterest and see what recipes are out there for me to try, among other things. I'm sure I'm not the only one!
Check out this recipe that might be helpful tonight: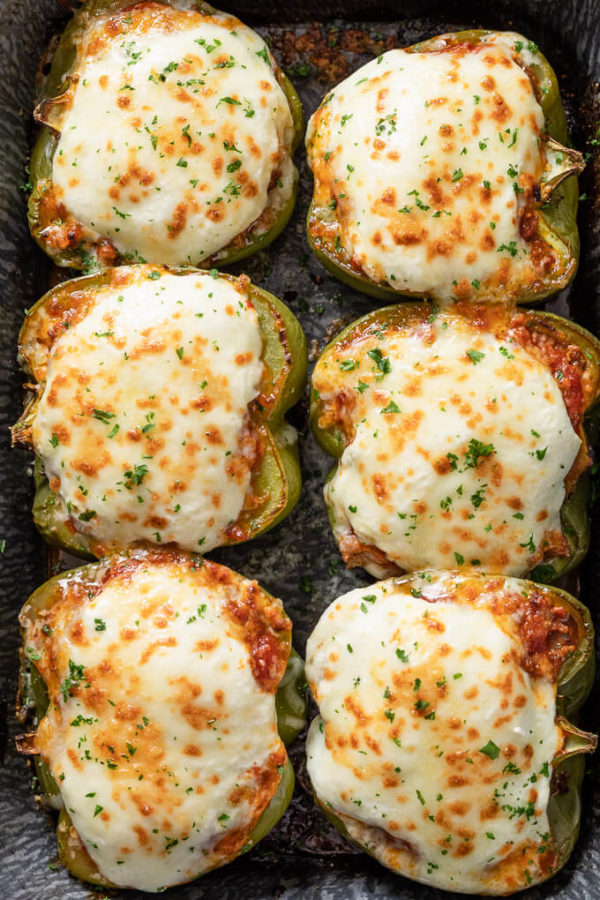 Tender bell peppers stuffed with ground beef, marinara sauce, ricotta and mozzarella cheese taste like lasagna. These low carb ingredients combine to make a filling and satisfying meal. Oven or slow cooker recipe.
Prep Time: 20 minutes
Cook Time: 40 minutes
Total Time: 1 hour
Servings: 6
Calories: 323
Author: Kim Hardesty
INGREDIENTS
3 large bell peppers
1 tsp olive oil
1/4 tsp fennel seeds
1 pound lean ground beef
1 cup keto tomato sauce (or your favorite sauce)
1 1/2 cup shredded mozzarella cheese, divided use (6 oz)
1 cup whole milk ricotta cheese
1/4 cup Parmesan cheese
INSTRUCTIONS
Preheat oven to 350 F and place rack to middle position. Halve the peppers lengthwise and remove the seeds and white pith with a spoon. Place in a 9×13 inch baking dish or in the bottom of a slow cooker.
Add the olive oil to a medium pan set over medium heat. When hot, add fennel seeds and cook stirring quickly until fragrant. Then, cook the ground beef in the pan, breaking it up into small pieces until cooked through. Stir in the tomato sauce (marinara or your favorite) and cook until thickened. Cool and mix in 1/2 of the mozzarella cheese.
Spoon the meat sauce into the peppers, filling half way. Spoon a scant 1 1/2 tbsp ricotta cheese into each pepper followed with the remaining meat sauce.
Cover the peppers with a piece of parchment paper, tucking the access around them. Then, cover the dish tightly with foil. [At this point the stuffed peppers can be refrigerated up to 2 days. Let sit on the counter for 30 minutes before baking.]
Oven
Bake covered for 30 minutes. Then, remove the foil and parchment and top with remaining ricotta and mozzarella cheeses. Bake uncovered for an additional 10-15 minutes. Place under broiler for additional browning. Top with Parmesan cheese and serve.
Slow Cooker
Layer the ingredients in the peppers as per steps 2 and 3 above. Place the peppers into the slow cooker and cook on high 3-4 hours or on low for 6-8 hours. When done, divide the remaining ricotta and mozzarella cheeses among the peppers. Cover and heat until the cheese melts. Top with Parmesan cheese and serve.
Serve with a green salad with oil and vinegar dressing.

NUTRITION
Calories: 323kcal | Carbohydrates: 10g | Protein: 27g | Fat: 20g | Saturated Fat: 10g | Cholesterol: 83mg | Sodium: 470mg | Fiber: 1g | Sugar: 6g | Vitamin A: 14000IU | Vitamin C: 700mg | Calcium: 3450mg | Iron: 8mg