It's time to figure out what we're making for dinner! One of my favorite things to do is look around on Pinterest and see what recipes are out there for me to try, among other things. I'm sure I'm not the only one!
Check out this recipe that might be helpful tonight:
Gnocchi with Garlic Cream Tomato Sauce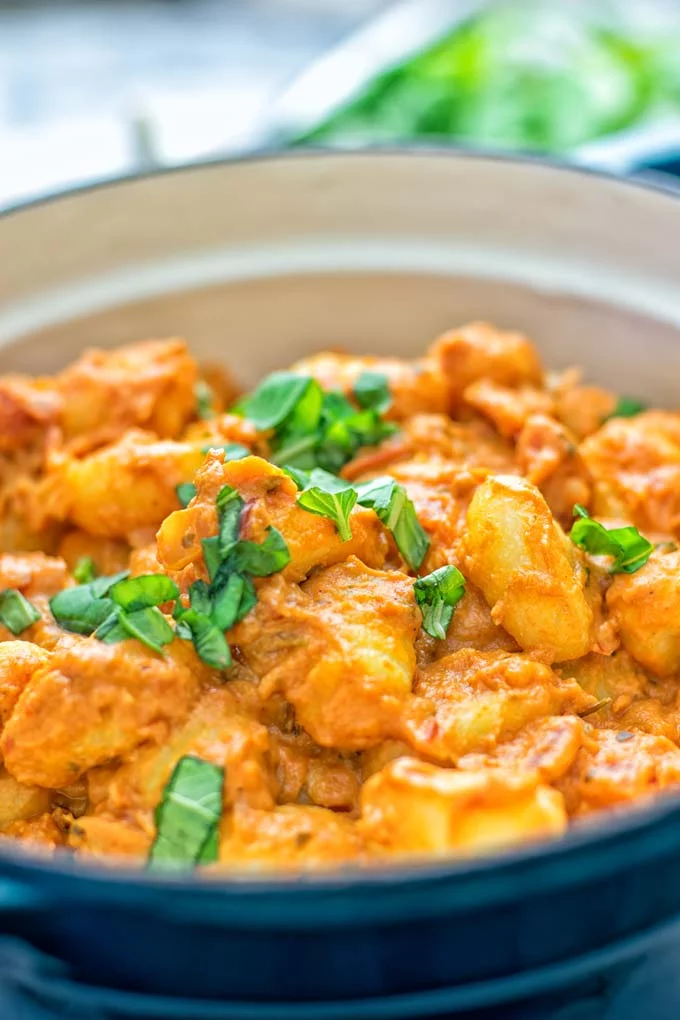 Amazingly delicious and super easy to make Gnocchi with Garlic Cream Tomato Sauce. Entirely vegan, gluten free and made with tahini for creaminess and taste. No need for cream or other dairy.
Prep Time: 2 minutes
Cook Time: 3 minutes
Total Time: 5 minutes
Servings: 4
Calories: 340
Author: Florian
INGREDIENTS
1 lb Gnocchi (I used gluten free)
12 oz marinara, store bought or homemade
3 cloves garlic, peeled and chopped
2 Tbs nutritional yeast
1/3 cup tahini
salt, pepper to taste
INSTRUCTIONS
Cook the gnocchi according the manufacturer's directions. Drain them, then transfer them back in the same casserole.
Next add marinara, tahini, garlic, and warm over medium heat. Divide into bowls and plates.
NOTES
Instead of cooking, you can also fry the gnocchi. Heat 2 Tablespoons olive oil in a skillet, add the gnocchi and enjoy.

NUTRITION
Calories: 340kcal | Carbohydrates: 56g | Protein: 11g | Fat: 8g | Saturated Fat: 1g | Sodium: 821mg | Fiber: 7g | Sugar: 8g |