It's time to figure out what we're making for dinner! One of my favorite things to do is look around on Pinterest and see what recipes are out there for me to try, among other things. I'm sure I'm not the only one!
Check out this recipe that might be helpful tonight: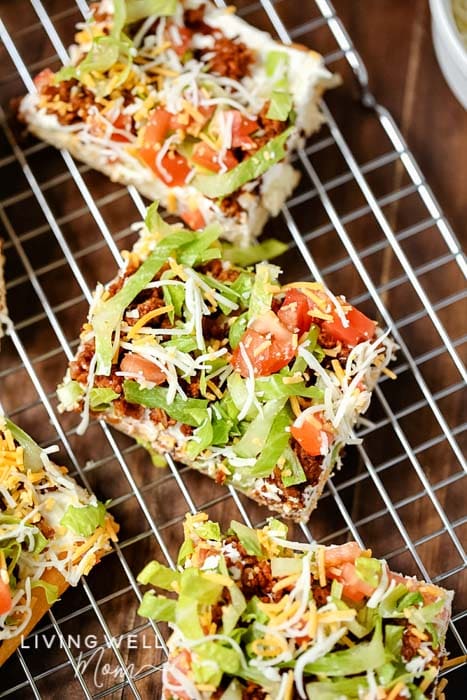 This easy taco pizza is made with a crescent roll crust and a tasty hit with the whole family. With simple ingredients, you can whip up this filling meal in under 30 minutes!
Prep Time: 20 minutes
Cook Time: 10 minutes
Total Time: 30 minutes
Servings: 6-8
Calories: 372
Author: Erika Bragdon
–
INGREDIENTS
2 tubes (8 oz each) refrigerated crescent rolls
1 package (8 oz) cream cheese, softened
1 cup (8 oz) sour cream
1 pound ground beef or ground turkey
1–2 envelopes or 2–4 Tbsp taco seasoning, to taste
1 medium tomato, chopped
2 cups shredded Mexican cheese
1 cup shredded lettuce
optional: avocado, taco sauce, hot sauce, black beans
INSTRUCTIONS
Preheat the oven to 375 degrees.
Unroll the crescent roll dough and lay out on a large ungreased cookie sheet. Pinch the perforations together to seal. Bake at 375 for 8-10 minutes or until light golden brown.
While the crescent rolls are baking, mix the softened cream cheese and sour cream together. Remove any lumps with a whisk. Set aside.
Brown the ground beef and drain. Add a can of drained black beans, optional, for more protein if desired. Add the taco seasoning and 1/4 cups of water. Simmer for 3-5 minutes, stirring occasionally.
When the crescent roll pizza crust is finished baking, remove from the oven and set aside to cool for 3-5 minutes. Spread the sour cream / cream cheese mixture over the crescent rolls. Sprinkle the ground beef mixture evenly over the top, followed by lettuce, tomatoes, cheese, and any other desired toppings.
Cut into serving-size pieces and serve immediately or store in the refrigerator for cold taco pizza to be served later.

NUTRITION
Calories: 372kcal | Carbohydrates: 12g | Protein: 30g | Fat: 23g | Saturated Fat: 12g | Cholesterol: 105mg | Sodium: 556mg | Fiber: 1g | Sugar: 2g |