It's time to figure out what we're making for dinner! One of my favorite things to do is look around on Pinterest and see what recipes are out there for me to try, among other things. I'm sure I'm not the only one!
Check out this recipe that might be helpful tonight: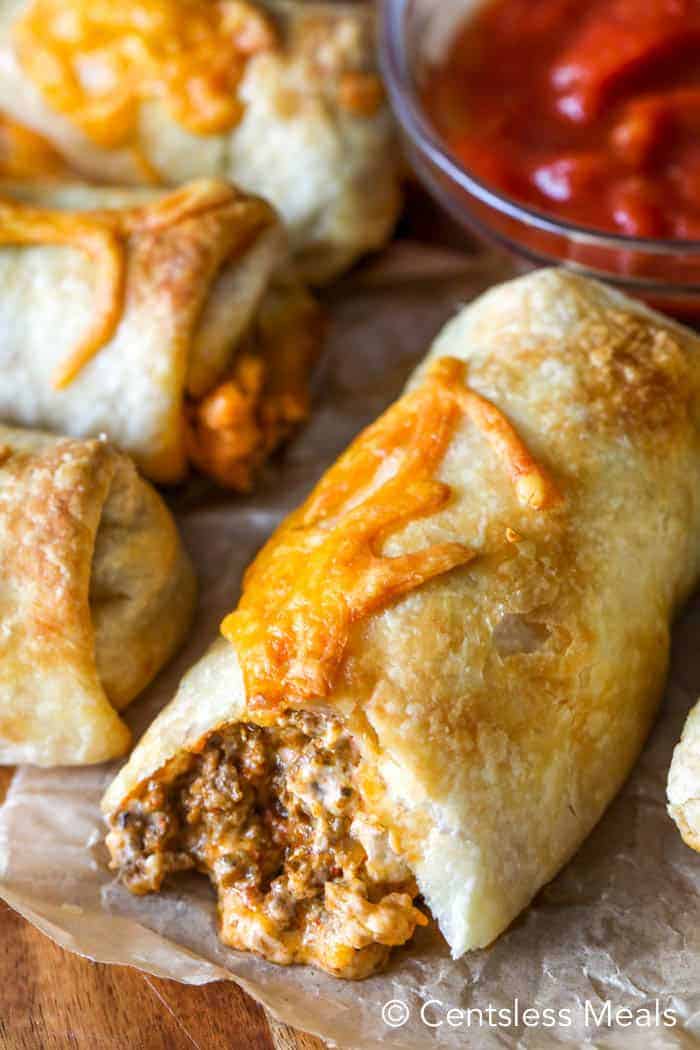 Taco Pockets are a quick fix on a busy weeknight. Cream cheese, salsa, seasoned ground beef and melted cheddar cheese are wrapped up in soft tacos and baked for a delicious and super convenient grab-and-go school lunch or afternoon snack.
Prep Time: 25 minutes
Cook Time: 15 minutes
Total Time: 40 minutes
Servings: 12
Calories: 270
Author: HOLLY
INGREDIENTS
1 lb ground beef
1 packet taco seasoning
8 oz cream cheese room temp
1/2 cup salsa
1 cup cheddar cheese shredded
2 tablespoon butter melted
12 small flour tortillas
sour cream salsa, tomatoes, etc. for garnish
INSTRUCTIONS
Cook ground beef, crumble and drain.
Add packet of taco seasoning and follow instructions on packet to season ground beef.
In a medium sized mixing bowl, beat cream cheese until almost fluffy. Slowly add in salsa and blend well.
Take a tortilla and spread a spoon full of the salsa mixture in the center. Spoon some ground beef on top of the salsa mixture (enough to cover the salsa). Top with cheese.
Fold the tortilla up as you would a burrito. Place on greased cookie sheet.
Brush tops of the burritos with melted butter. Bake at 350°F for 15 minutes or until golden brown. Remove from oven and garnish with taco toppings.

NUTRITION
Calories: 270kcal | Carbohydrates: 18g | Protein: 14g | Fat: 15g | Saturated Fat: 8g | Cholesterol: 59mg | Sodium: 678mg | Fiber: 1g | Sugar: 2g | Vitamin A: 735% | Vitamin C: 2%| Calcium: 125% | Iron: 2%