It's time to figure out what we're making for dinner! One of my favorite things to do is look around on Pinterest and see what recipes are out there for me to try, among other things. I'm sure I'm not the only one!
Check out this recipe that might be helpful tonight: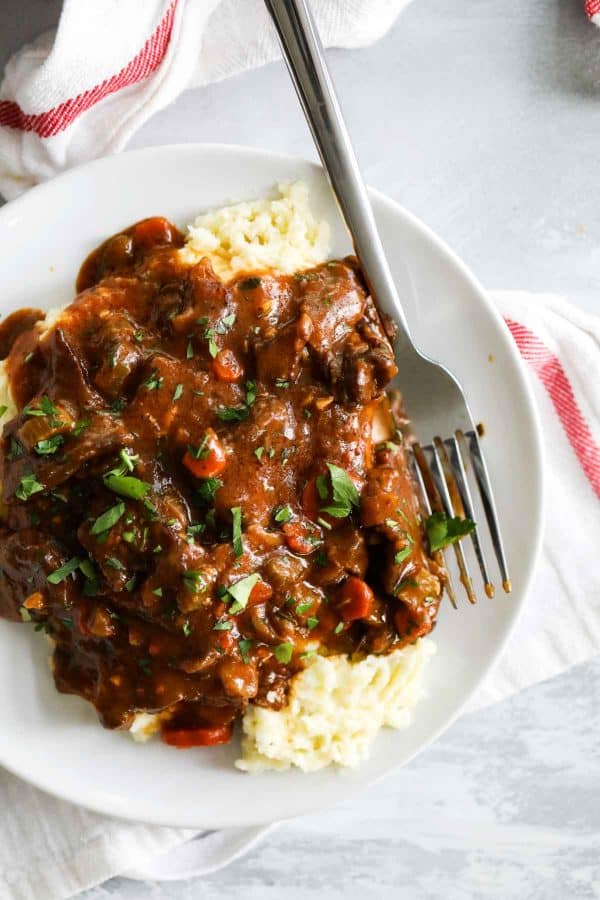 This Smothered Beef Tips Recipe has beef that is cooked in a homemade gravy until it is super tender and flavorful. Serve over mashed potatoes, rice or noodles for the perfect Sunday supper that the whole family will go crazy over.
Prep Time: 15 minutes
Cook Time: 3 hours
Total Time: 3 hours and 15 minutes
Servings: 6
Calories: 478
Author: Deborah
INGREDIENTS
2 lbs boneless beef chuck
Kosher salt
Ground pepper
1/4 cup vegetable oil, divided
1 yellow onion, diced
2 stalks of celery, diced
1 carrot, diced
4 cloves garlic, minced
2 tablespoons tomato paste
1/4 cup all-purpose flour
3 cups beef stock
1 bay leaf
3 sprigs of thyme
3 stems of Italian parsley
1 tablespoon red wine vinegar
3 tablespoons minced Italian parsley
INSTRUCTIONS
Cut the beef chuck into small strips, about 1 to 2-inches in length and 1/4-inch thick. Season generously with salt and pepper.
Preheat a large cast iron skillet over medium-high heat. Add 2 tablespoons of the oil and swirl to coat the skillet. Add half of the beef and cook, turning halfway through, until browned on both sides, 5-6 minutes. Use a slotted spoon to remove the beef from the skillet into a bowl, then sear the remaining half of the beef.
Decrease the heat to medium and add the remaining 2 tablespoons of oil. Add the onion and cook until it starts to soften, then add the celery and carrot and continue to cook, stirring often, until softened, about 5 minutes. Add the garlic and cook for 30 seconds, then stir in the tomato paste.
Add the flour and stir through, until no dry flour remains.
Slowly start whisking in the beef stock. Bring to a boil, stirring constantly and scraping up all of the browned bits from the bottom of the skillet.
Reduce the heat to medium-low. Return the beef to the skillet, along with any juices that have accumulated. Add the bay leaf, thyme, and stems of parsley. Put a lid on the skillet and simmer, stirring occasionally, until the sauce has thickened and the beef is tender, 2 1/4 to 2 1/2 hours. If needed, cook uncovered the last half hour to get to your desired thickness.
Discard the bay leaf, thyme and parsley stems.
Stir in the red wine vinegar and minced parsley. Season to taste with salt and pepper.
Serve hot.

NUTRITION
Calories: 478kcal | Carbohydrates: 8g | Protein: 32g | Fat: 35g | Saturated Fat: 12g | Cholesterol: 94mg | Sodium: 520mg | Fiber: 1g | Sugar: 2g | Vitamin A: IU | Vitamin C: mg | Calcium: mg | Iron: mg