It's time to figure out what we're making for dinner! One of my favorite things to do is look around on Pinterest and see what recipes are out there for me to try, among other things. I'm sure I'm not the only one!
Check out this recipe that might be helpful tonight: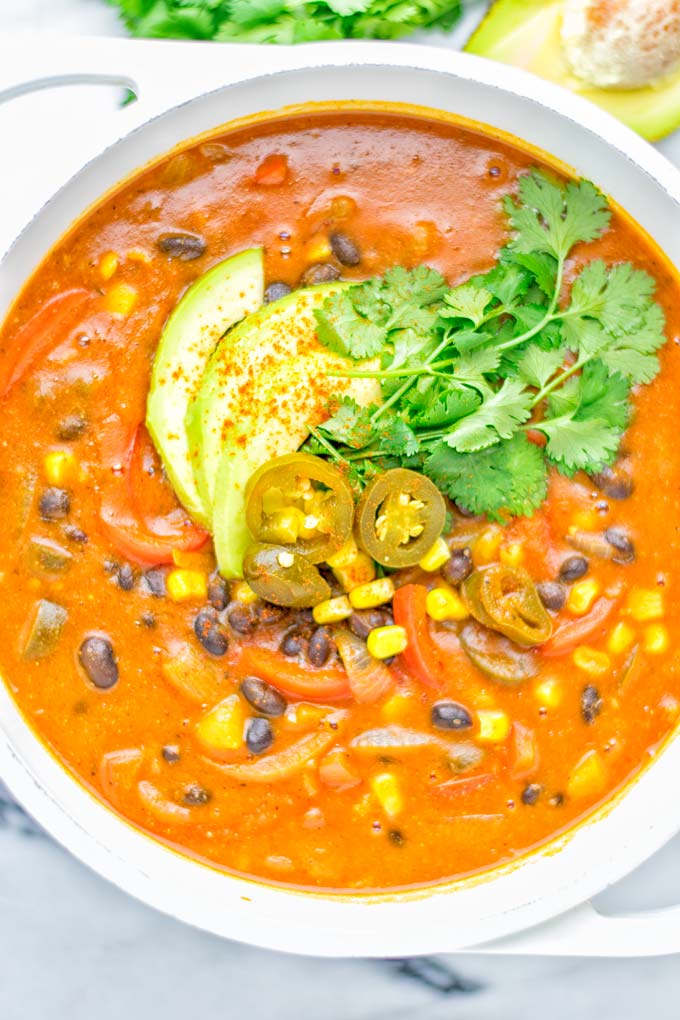 This Spicy Garlic Enchilada Soup is super easy to make in one pot, and entirely vegan and gluten free. It's also protein rich, packed with bold flavors and so delicious.
Prep Time: 5 minutes
Cook Time: 10 minutes
Total Time: 15 minutes
Servings: 4
Calories: 274
Author: Florian
INGREDIENTS
2 cups enchilada sauce
6 cloves garlic, minced
2 Tbs Enchilada seasoning
3 cups vegetable broth
2 15 oz black beans
1 cup peeled corn
salt, pepper to taste
OPTIONAL ADD ONS:
3/4 cup onions
2 bell peppers
7 oz can jalapenos
INSTRUCTIONS
In a pot, heat a bit of oil or vegetable broth for frying without oil. Add garlic, optional onions, and fry them for around 5 minutes.
Next add enchilada sauce and seasoning, black beans, corn, vegetable broth and optional jalapeños and bell peppers.
Cook for 10 minutes more on medium heat. 5Serve in bowls or on plates.

NUTRITION
Calories: 274kcal | Carbohydrates: 46g | Protein: 14g | Fat: 4g | Saturated Fat: 2g | Cholesterol: 0mg | Sodium: 1592mg | Fiber: 17g | Sugar: 3g |