It's time to figure out what we're making for dinner! One of my favorite things to do is look around on Pinterest and see what recipes are out there for me to try, among other things. I'm sure I'm not the only one!
Check out this recipe that might be helpful tonight: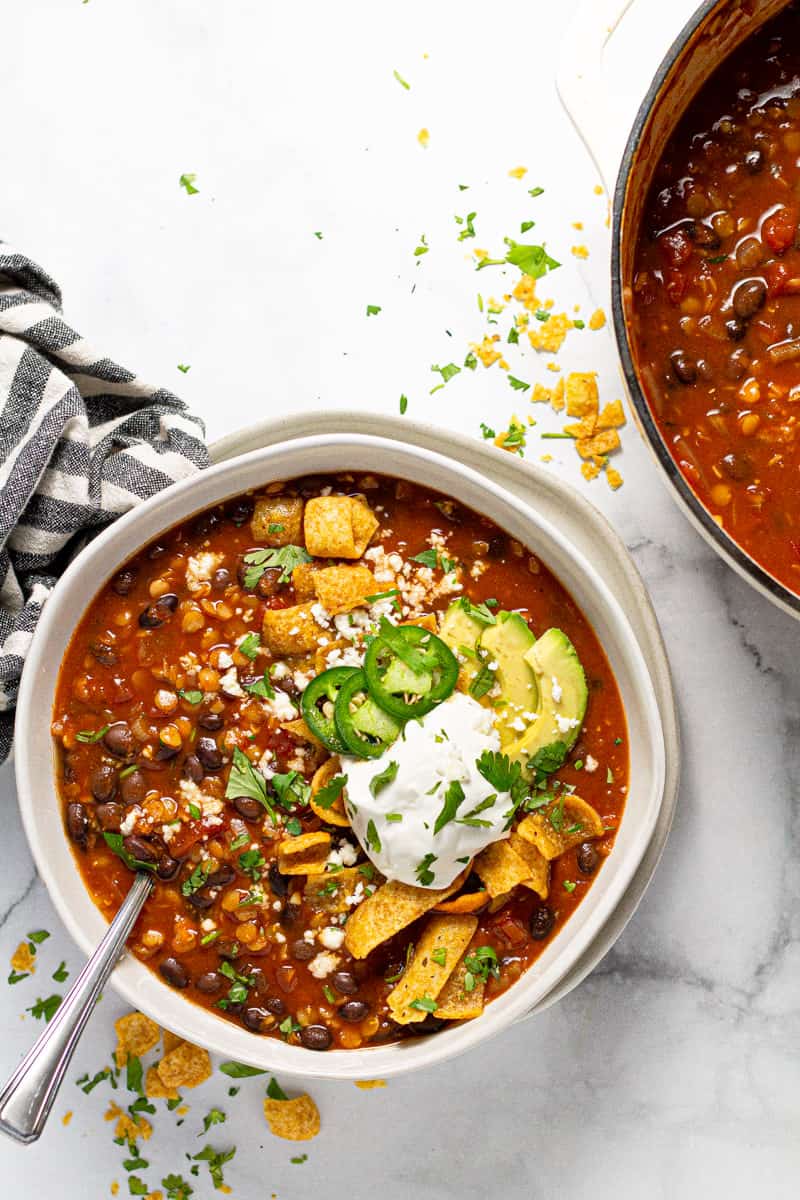 Healthy food can also be hearty and satisfying! Don't believe me? TRY THIS VEGAN BLACK BEAN CHILI! It's loaded with over 50% of your daily fiber in each serving and filled with fresh Mexican flavors. This chili will fill you up and fuel you through your busy day!
Prep Time: 10 minutes
Cook Time: 5 minutes
Total Time: 15 minutes
Servings: 8
Calories: 284
Author: Kylie Lato
INGREDIENTS
1 tablespoon olive oil
1 red onion, diced
5 cloves garlic, minced
1 tablespoon chili powder
1 tablespoon cumin
1/2 teaspoon sugar
1 (14.5 oz) can diced tomatoes
2 teaspoons diced chipotles in adobo
(3) 15 oz. can black beans, drained and rinsed
1 cup uncooked split red lentils
(2) 15 oz. cans tomato sauce
2–3 cups vegetable broth
juice of 1 lime
Kosher salt
fresh cracked pepper
Garnish:
Fritos
vegan sour cream
fresh chopped cilantro
sliced jalapeno
INSTRUCTIONS
Heat olive oil in a large pot over medium heat. Add onion along with a large pinch of salt and pepper. Cook 4-5 minutes, stirring frequently.
Add garlic, chili powder, cumin, and sugar and cook for another minute, stirring frequently.
Stir in tomatoes, chipotles in adobo, black beans, lentils, and a large pinch of salt and pepper.
Then add tomato sauce and 2 cups vegetable broth.
Cover, turn heat to medium-high and bring to a simmer.
Reduce heat and simmer over medium-low for 5-7 minutes or until lentils are tender, stirring frequently. Add remaining cup of broth if desired.
Stir in the juice of 1 lime and season to taste with salt and pepper.
Garnish with Fritos, sour cream, and fresh chopped cilantro.

NUTRITION
Calories: 284kcal | Carbohydrates: 50g | Protein: 17g | Fat: 3g | Saturated Fat: .5g | Cholesterol: 0mg | Sodium: 910mg | Fiber: 15g | Sugar: 4g | Vitamin A: 2%| Vitamin C: 13% | Calcium: 8%| Iron: 35%